Just added the remaining N1 grammar structures I had left in my lessons

Now I'm curious how long it'll take me until all the grammar is mastered


Probably a few more years xD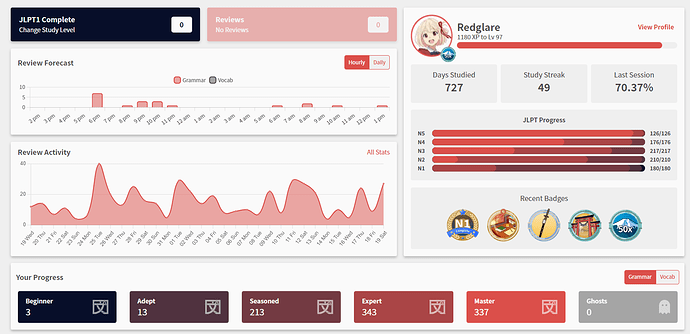 Do I recommend BunPro?
Yeah! I think it is good for practicing both grammar and reading sentences. Good for searching up grammar whenever you need it, too. And maybe it's just me, but I used to get really angry and annoyed when I failed my reviews, so I guess my foul mood issues got therapy from keeping up with the reviews

I'd recommend textbooks on the side like Shinkanzen Master / Genki for extra explanations.
Random stuff:
I started using BunPro on April 27, 2019 apparently
More stats

ちょこちょこ with the lessons





No super brain by any means (compared to the global average) I still have N5 grammar I haven't mastered yet.

Plans

Current goal is to read a bunch of 活字 books (I've read 40 novels already) and eventually reach 100 000 pages! (Inspired by senpais like Naphthalene on the WaniKani forums)

I'm considering going for N1 next year. I passed JLPT N2 last year (December 2021). The gap between N2 and N1 is just much bigger than between the other levels, so I'm not sure I'll be ready by JLPT time next year.

Move to Japan? No such plans! But I'd like to go sightseeing again someday Went there for two weeks in 2018.
Socials

Bookmeter: Redglare - 読書メーター
WaniKani community: Profile - Redglare - WaniKani Community (log in first to access)
Youtube channel: Redglare - Youtube

That's it, no more socials
Will there be more lessons added in the foreseeable future?
Please let me know!