Week Four!! If you don't know what's happening, main post here.
Links to the previous weeks can be found in the main post also.
Tldr: Quick daily practice of using real Japanese to understand and acquire information. The focus being on understanding what is being conveyed sufficiently to interact with or respond to it.
This week we're back and the station and will be taking a look at some of the different signs regarding corona countermeasures we may encounter. Japan has been slowly opening back up to regular travellers, if you're planning on going to Japan in the near future this may be a good preview.
(Or if you live in Japan but never took the time to take a closer look at them)
Day 1: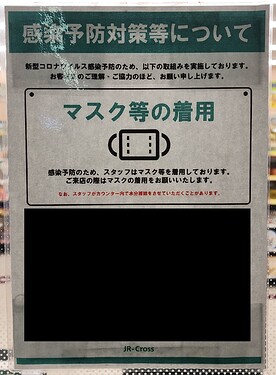 Happy New Year! Starting this week with a shorter one.
What is the sign saying about masks?
Day 2: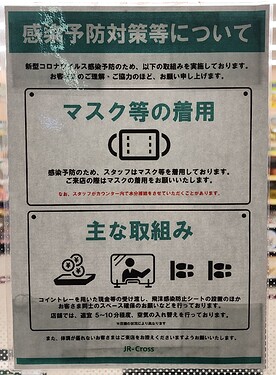 We continue our gentle start to the year, with the bottom half of the previous sign.
What are the main initiatives in effect?
Day 3: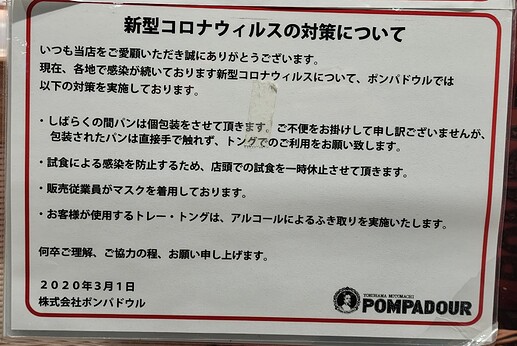 Back at Pompadour for some bread, what are the four adjustment they have made?
Day 4: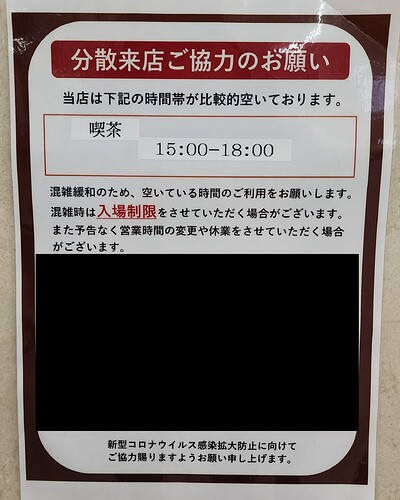 This shop seems to be employing a different strategy than what we've seen from other stores so far. What does the sign say?
Day 5: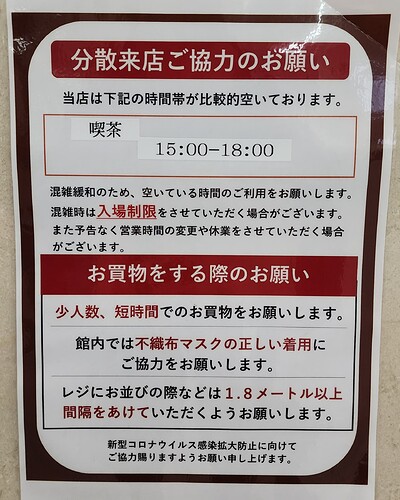 What other recommendations do they have in place?
Day 6:

Beans, another familiar location from our first stroll around the station. What measures have Beans taken to reassure shoppers?
Hint if you're stuck: Definition for バックヤード

A backroom that isn't open to customers such as a storage room or staff room.
Day 7: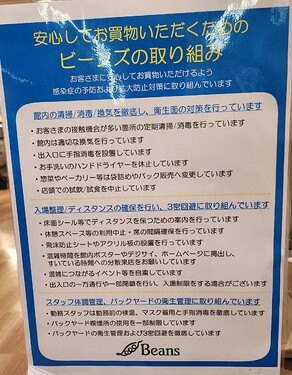 What does the remaining middle section of the sign say?
(The 3密 are 蜜閉空間、密集場所、密接場面)
Next week we will be at a museum with mostly shorter signs. For some of the signs there will be an extra challenge version.
Check in if you're participating this week