Two days ago, my bonus free trial was about to end, and I've finally decided to subscribe to Bupro!


However, upon doing so, all my reviews got delayed 7 or 8 months, like this card shows: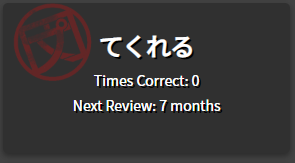 Lessons I've done since then behave normally.
While I'm at writing this post, I would have an idea of improvement. I love how flexibly Bunpro handles similar gramar points, tolerating small misunderstandings or missing nuances. It happens sometimes, though, that a particle is already included in the sentence to complete, and if I add it as well, it will be marked wrong. Say, when the sentence is like _____か, and I input ましょうか, it is not accepted because of two か particles. I would appreciate a mechanism which detects this, too.
Since this is my first post here, I would add how awesome Bunpro is, but I'm already subscribed, so it's kinda obvious I feel like that