Hi all, long time no see (at least, on the forums)! Thanks in part to the boost in understanding that Bunpro has helped to give me, I've started hanging out in Discord servers and other online spaces with real, live Japanese folks, and occasionally chiming into the conversation with them. It's been very rewarding.
One of the servers I'm in tries its best to draw together native speakers of both English and Japanese to help each with the others' language-- and the server does its best to tamp down the hoodlums, but the public internet is going to be the public internet

Anyway, someone was asking a question about how to use せいで versus せいか and a native speaker replied, pointing out something that I had kind of understood on a gut-level but never really been consciously aware of before. Check it out: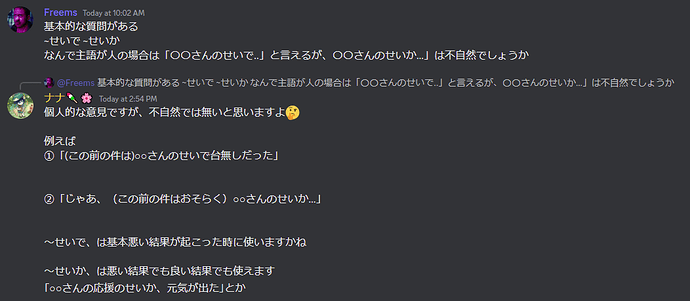 Transcript:
Freems — Today at 10:02 AM

基本的な質問がある ~せいで ~せいか なんで主語が人の場合は「〇〇さんのせいで…」と言えるが、〇〇さんのせいか…」は不自然でしょうか

ナナ — Today at 2:54 PM

個人的な意見ですが、不自然では無いと思いますよ

例えば
①「(この前の件は)○○さんのせいで台無しだった」

②「じゃあ、(この前の件はおそらく)○○さんのせいか…」

〜せいで、は基本悪い結果が起こった時に使いますかね 〜せいか、は悪い結果でも良い結果でも使えます

「○○さんの応援のせいか、元気が出た」とか
Anyway, I had the thought that this would be great fodder Bunpro if y'all didn't already have it-- and I see that we do in fact already have せいで here for the negative consequences: Bunpro – Japanese Grammar Explained
but noticed we don't have a grammar item for せいか where the result can be either positive or negative.
Anyway, just wanted to drop by and leave this little morsel lying around in the hopes of the team picking it up. Cheers!