Thank you to those who have responded earlier here in this thread and via Second Life's IM. If you've sent me a message there, I've read them and gave your Second Life username to the Nihongo Tea Room owner. Sorry for my late response there as I only login once a week on average and will try to reply ASAP, but rest assured that your username is being added to the safelist.

The same goes for anyone who has expressed their interest to join under this thread. You have been added to the list and we'll be waiting for you to come over to Second Life with your registered SL username. It would be great if you could edit your reply here and write your SL username too.

If it's not too much, mentioning your country would help too (Nihongo Tea Room owner is making a list of participants in Excel) - but it's not compulsory if you're concerned about privacy in this forum as we'll have our introductions in class anyway, so it could be added later.
And the most important but unfortunate announcement is that I'll have to end any more new registrations for now, or there might not be enough space in Nihongo Tea Room garden for everyone who has responded earlier (the owner joked that we might need a stadium! ). We worry it might be hard to have a good learning experience if it's too crowded.

But if there's any new openings, I'll definitely post again. The least crowded option at the moment is the weekly Shiritori Japanese x English Language exchange activity every Friday at 10.30pm JST. It's happening in Nihongo Tea Room as well, and I think you don't have to register or give your Second Life username to join this activity.

It is less-structured compared to learning via Genki textbook but it will be good as another Japanese speaking exercise. This activity has the most Japanese native speakers attending in Nihongo Tea Room due to them wanting to brush up their English while casually teaching you Japanese.

Sincere apology for those who aren't able to join this Genki study group anymore but I personally think there are more efficient ways to learn Japanese than this. All the best in everyone's learning journey and thank you for your time reading this.
For those who wishes to join the weekly Friday night Shiritori Japanese x English language exchange activity with more native Japanese speakers, you may jump straight to this link for the guide.
Below are references for those who have signed up earlier for the Genki study group:
Genki 1 Study Group will start on Saturday, 15th January 2022, 9pm JST. Please check out the link in the middle of this post as there are more details about the activity and where to install Second Life (that's all you need for sign up).

Genki 2 Study Group will start on Saturday too, 8th January 2022, 10pm JST and there's already a couple of existing learners. New participants are welcome if you're done with Genki 1 and the sign up process is the same, as explained in the link below.
Yoshi Sensei plans to guide us with Genki 1 and Genki 2 back-to-back, every weekend from January onwards. Even though I'm starting Genki 2 next year, I'm glad he is doing Genki 1 again at the same time too. I still need to brush up on some learned grammars to polish my comprehension and fluency.
Now here's the copy and pasted notice from Yoshi Sensei:
Dear Japanese Language Learners.

I am planning a new Japanese activity for beginners. I would like to start GENKI (this is a very popular textbook for self-study of Japanese) from the Lesson One again.

This is a beginner course, but it require that you can read at least Hiragana characters. Katakana and Kanji characters are not required yet.

I would like to start on 15th January next year. If you are interested in this activity, you have about a few weeks before the start, so please learn Hiragana by then.

This activity is not like school. You need to study on your own. I will only push you and support you.
And here's a note from the owner of Nihongo Tea Room, another native Japanese who regularly observes the class. Her English is superb, hence she helps Yoshi Sensei when there are difficult queries from learners.
Actually, it IS like school!

The classes will be taught by Yoshi-sensei, but Learners will need to do their own preparations and reviews. They will get homework. So we need your commitment.

If you are a serious learner, come and join Yoshi-sensei's Beginner Japanese activity! The lessons are serious but fun!
I've also provided my opinion about Second Life as a long time user in the rough guide below and it's generally a mixed-bag (long story short: it's very similar to how Internet and forums can be). Please take a look since explanations on how to join the study group are in the link below too.
---
Additionally, here is Yoshi Sensei's latest updates for both Genki 1 and Genki 2 study groups:
BEGINNER JAPANESE 1

January 15, Saturday
9:00 pm (JST)
Break the ice!
Please introduce yourself (Japanese or English).
Let's practice reading Hiragana together.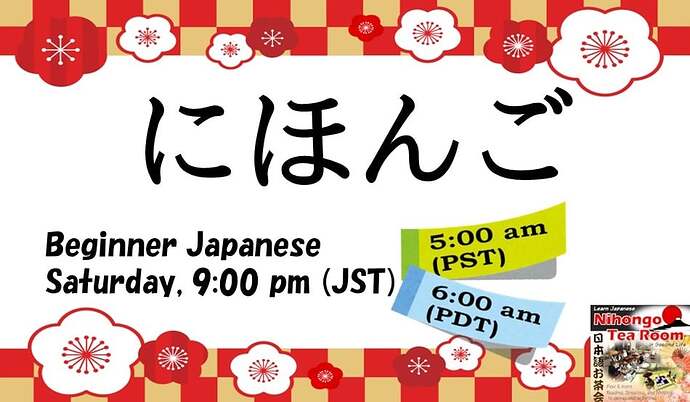 ---
JAPANESE 2

1月 8日 土曜日 午後10時(JST),
January 8, Saturday

みなさん、あけましておめでとうございます。
今年もよろしくおねがいします。
さぁ、スタートしますよ!

【GENKI2】
Lesson13 アルバイト探し(Looking for a Part-time Job)のダイアログを読みましょう。

・30ページと31ページのGrammar 1 Potential Verbsを読んでおいてください。