Cram!
With the December JLPT exactly one week away, it is the perfect time to really focus on the individual grammar points that are giving you the most trouble.
For this reason, we have added a few features to Cram to enhance your grammar studies.
You can now select multiple JLPT levels to cram at once.
In addition to selecting multiple JLPT levels, you can now select individual grammar points from within those categories.

What's Cram, again?

Cram allows you to review random example sentences from a particular JLPT level.

Cram draws from every available study question in our database to cover a variety of situations and nuances.

You can cram for as long as you like without affecting your normal review SRS.
Happy cramming and good luck on the JLPT!
---
Bookmarks
You can now bookmark individual grammar points! Just click on the bookmark icon in the upper right-hand corner of a grammar point page.
Grammar points you have bookmarked will be marked with a bookmark icon.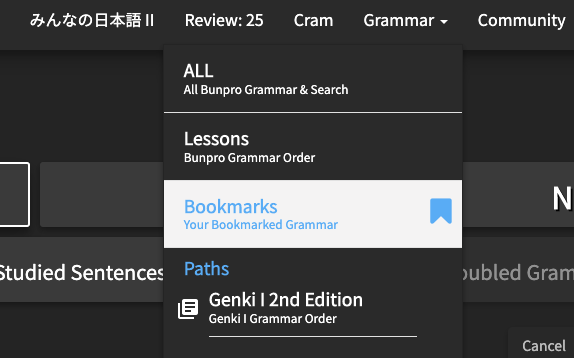 ---
Copy Japanese
You now have the ability to copy the Japanese example sentences to the clipboard without furigana.
---
Wanakana Update + Bug Fixes
Wanakana update fixes the bug where typing in the middle of a word for error correction moves the cursor to the end of the input.
Various minor bug fixes.
---
Troubled Grammar
You can now view your troubled grammar points on the Stats page.
---
Oh, one more thing…
New Grammar!
---
View Grammar Points
---
Thank you for all of your kind words, support, feedback, bug reports and suggestions. Please let us know if there is anything that we can do to improve your experience! Cheers!