I decided to try resetting my JLPT N5 Vocab progress, as I am not using Bunpro for vocab.
Selected this option and went back to the homepage to check if it worked.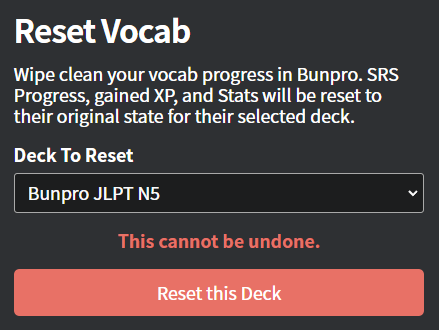 Now all my grammar progress is gone. N5, N4, and the few N3/N2/N1 grammar points I had. All of it. N5 Vocab is also gone as expected, so at least one thing worked.
I sent a bug report, but the page says that progress cannot be recovered and now I feel extremely disheartened. Not sure if I have the strength to redo all the reviews I had up to the point I was at, seeing 1.5 months of progress gone due to a bug just killed all of my motivation.