Hey Everyone!
We are happy to announce that Decks and Vocab Reviews are available via our Open Beta.
You can check them out here: Decks
Decks
Decks are a new way of grouping and displaying content on Bunpro. They can be grammar only, vocab only or a mix of the two.
An example of a mixed deck:
We have created one grammar deck for each JLPT level that follows the Bunpro order.
There is also currently an N5 Vocab deck that is ordered alphabetically.
We thought that alphabetical arrangement (especially in the higher N-levels) would give users the opportunity to see several nuances of the same kanji, one after another, when they appear in succession. This is another tactic that we feel will help greatly with learning, and in-turn, retention.
We plan to add N4 vocab to the platform over the next 1-2 weeks after which we will add a corresponding N4 Vocab deck.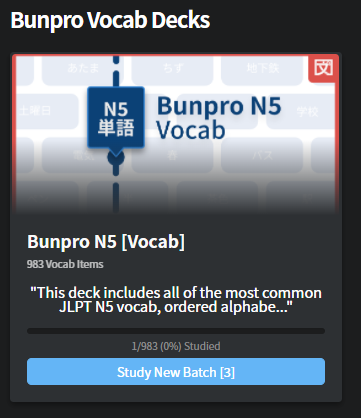 Lastly, we have created a deck for each Path.
Other than Genki I, which currently has both mixed decks and grammar only decks, the paths are grammar only. As we add more vocab, we will be able to create complete mixed decks for other paths as well.
We have made your progress the source of truth across all decks. If you study a word anywhere on the platform, that progress is tracked across all decks it might show up in.
For example, if you complete the Bunpro N5 grammar path, the progress will be reflected in the Genki I deck meaning you won't get requizzed on what you have already learned.
You can use the "Study New Batch [X]" button on any deck to quickly study the next X items from that deck. Which leads us to…
Vocab Reviews
It is now possible to SRS vocab on Bunpro (maybe we should rebrand as 文単プロ

).

During quizzes, you will simply be asked to mark it unknown or known. Unknown can be triggered with the [1] key and Known with the [2] key. All other hotkeys also work ([Enter], [Backspace], & [F]). This is similar to the Anki style of reviewing.
Vocab reviews can be added, reset or removed from your queue just like for grammar reviews. This is accessible from any deck or from the vocab popout should you come across words in your ongoing study that you want to SRS.
For vocab reviews, we have hidden the English by default, giving you the opportunity to try to figure out what those words mean first, through reading. Naturally, you can just press 'Show English' if you want to skip this step and purely bulk memorize, but we would like to give you every opportunity to learn through Japanese, rather than English translations.
---
This is an initial release and only represents a portion of what we believe decks and vocab reviews will ultimately be capable of.
We would like to get your feedback on these new features. Some of the key things points we are most curious about are:
Should Vocab Reviews also be manual input?
Should there be a third option that keeps the SRS at it's current level? Something like a "I kind of know this" button.
Would you like to be able to bookmark decks? How about an option to set a Deck as your "Path"?
Would it be helpful to be able to set the batch size for each deck individually?
Would you like to see a notes indicator on content within each deck that you have a note for, similarly to how you can see your SRS progress on certain words?
Would you like to be able to add notes to vocab? How about a separate place to make your own mnemonics for each vocab or grammar point?
Would you like to see a Bunpro N5 mixed deck where we show you vocab then grammar in such a way that the vocab you learn first will then show up in the examples for the grammar you just learned?
---
Update 1/31
Bookmarked decks
Your bookmarked decks will now show at the top of the decks page for quick access.
You can bookmark any deck via the "Bookmark" button at the top of that deck's page:
---
Deck Settings
Using the deck settings button at the top of each deck's page.
You can set your deck to be the "Main Deck". Doing so will make it so that using "Study" will automatically use this deck for learning new content.
You can change the deck batch size for new items.
You can set a default SRS level for content from that deck. This is mostly useful for going through lower level content as a refresher.
Lastly, you can change the new vocab you learn from a specific deck to be manual input or flashcard style.
Should you need it, you can update all the already learned vocab reviews for a specific deck to be a certain review type.
---
Review from Deck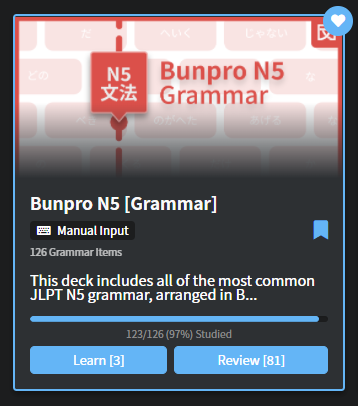 It is now possible to limit your reviews to content that comes from a specific deck. You Do Not need to be actively studying that deck to utilize this feature. It can be particularly useful if you want to do just your N5 grammar reviews or want to only do vocab reviews, simply use the relevant deck(s).
---
Manual Input & Flashcard Display
Deck content now shows its input style. In a future update, we will allow for individual settings on each vocab word to adjust input style
---
Manual Input Vocab Reviews

Manual input vocab reviews are here

The logic behind matching your answer to the possible answers, taking into account typos and other possible answers is still a work in progress. We want to look at the data and get feedback from you guys before we adjust it too much. If you feel it is too lenient or too strict, please let us know. In the next update we will add the ability for you to add your own synonyms and accepted answers to vocab.
---
Wanikani Sync

This will mark all of the Wanikani vocab you have learned so far as "Known" on Bunpro, preventing a doubling up of reviews.
Due to the large number of vocab, this can take a little while to process so please wait for the page to automatically refresh.

---
Bug fixes
The bug with ghost review vocab has been fixed. You shouldn't have reviews getting stuck on loop any more.
---
Update 2/17
N4 Vocab Deck
N4 vocab is a set of an additional 1100 words, each with a minimum of 8 context sentences (meaning close to 9000 new sentences all up!).
Here is the N4 Vocab Deck: Bunpro N4 Vocab
---
Vocab Search
The vocab all page will allow you to scour the depths of the Bunpro database.
We plan to add more filter options and searchable parameters in the near future (including an overhaul on the grammar search). If you have any suggestions on parameters or filters you must have, please don't hesitate to let us know!
---
Vocab Notes!
Now, you have the option to make notes on the words that you are learning, in a similar way to how the note system works for grammar.
We hope that this will provide a place for you to add extra example sentences, mnemonics, your own links to external sources, etc.
---
Vocab Synonyms
You can now add synonyms to any vocab word. These synonyms will become accepted alternate answers when doing manual input vocab reviews.
Adding synonyms is not case sensitive, and each word just needs to be separated by a comma.
---
Split Reviews
There is now a setting in your General Settings under the "Review" section called "Split Reviews".

It will split the "Reviews" button on your dashboard into two separate options, one for grammar and one for vocab. You can still use the "Review" button in the navigation to get a mixed queue.
---
As always, thank you for your support and feedback. We will continue to strive tirelessly to make Bunpro the best it can possibly be!

P.S

With the next Beta release, we will allow you to start making and sharing your own decks. Stay tuned!