Good job you fixed it Mister Jake from State Farm. Your kneecaps are safe for another day >:)
Ah yes much better. Thanks.
Now I can go back to being angry just with myself at getting answers wrong instead.
Sorry, if that a workaround for my issue? It looks like a related issue?
Hello ! It seems that i can't cram with selected grammar point. the page is blocked on Loading Cram Session. It seems to happens when i'm selecting too much grammar point, more than 40 maybe.
I tried using mozilla and google chrome but same problem.
Typo in じゃないか




It's the last point in the Information section of the lesson
When looking at upcoming reviews in the profile, you press this button (space after the '+'):

which then simply turns into this button (no space after the '+'):

and only after clicking again will it properly begin to toggle:

Is the furigana to overseas travel not kaigairyokou?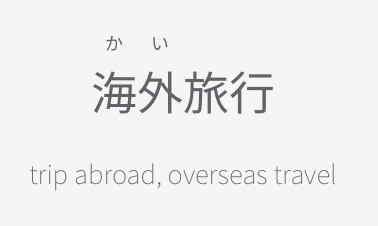 It is, this appears to be an error, fixing now.
The search page on Grammar Points | Japanese Grammar SRS already loads all of the grammar points, so why does it need to hit the search API at all?
Wouldn't it make more sense to filter all of the results client-side for a search instead? It would make search pretty much instant and it would reduce the calls to the server.
I have a weird one… started using one of the vocabulary decks a couple days ago. Since the first time I used the vocab deck, now every time I want to learn new GRAMMAR, it will point me to new cards from the vocab deck instead. So effectively I have no way of learning new grammar. I can still review grammar and vocab separately, that works fine.
This issue is only related to the website, the mobile app works fine - if I want to learn new grammar, it points me to grammar. So I guess there is a workaround, but not super convenient

Edit: ok, found the reason… the deck was set as "Main deck" - changing the setting fixed the issue. I assume this is WAI, but it's not too obvious

Hey! If you see this again, could you please take a screenshot of your inspect console?
In the explanation for こと, the example supposed to show that it can be use with the negative form of the verb actually uses nominalization with の. ( お金を使つかい過すぎないのが大事です。)
I guess, this was supposed to use ことinstead
If you press space when there are no more reviews then the old hint shows up and all of the other text disapears. If there is no hint the box goes blank.
What it is supposed to be:


What it looks like if you try show the hint:


Somewhat minor but, but I recently passed the 16k experience milestone and didn't get the badge for 16k (at this time, I have a bit over 17k total).
Just wanted to let you know that the second example of the grammar point for ようと思う seems to have incorrect furigana for 電車.
私は明日から電車で通おうと思う。