Is it possible that all of yesterday's reviews were ghost reviews?

I couldn't tell you if they were ghost reviews or not. Does that make a difference?
They don't give XP so I think they don't count, but I could be wrong about that.
The FAQ doesn't really say in the Ghost Reviews section:

@Kokusaibu Thank you for providing this information! We will see what we can do about implementing it into the site. Cheers!
@1112 Hey! We actually haven't had a chance to push the changes/bug fixes that we thought might be associated with the problem yet. So, while we would like to take credit for performing magic, this seems to be divine intervention. Please let us know if you experience any more issues. Cheers!
@MasterOfPuppets As @conan suggested, it looks like the recent time change may of been the culprit. I have restored your streak. If you wouldn't mind confirming/saving your time zone in your settings to account for the change, it will hopefully prevent this from happening in the future. Thank you for your patience. Cheers!
Any review that you do on Bunpro (regular reviews, Cram reviews, Ghost reviews, or Self-Study reviews) counts toward your streak. As long as you are doing some sort of review/cram on Bunpro you will not lose your streak. Cheers!
Indeed my streak has been restored! I confirmed my time zone was correct, but clicked save at the bottom of the page again anyway. Thanks to everyone who had a hand in fixing it!
You gotta do something about the login cookies on mobile. I forgot to select the "remember me" checkbox when logging in, resulting in me getting logged out within about an hour. There's really no reason to ever log someone out of a website like Bunpro.
I've tried scrolling through looking for this bug - im sure it has already been posted -
Once the audio gets played, the play button disappears. you have to hover where it used to be and guess where to click - it works then

it happens on all devices, apply, android and windows
Hello!
I'm having a really specific issue with loading the Genki I 2nd Edition grammar path. Whenever I go to study a specific chapter, it loads the first grammar point and then freezes. Whenever I try to click to the next grammar point, it gets stuck on loading and then the freezes. I've tried navigating other chapters and it's much the same. Although when I click on a smaller chapter with fewer grammar points, it loads eventually, but takes a while. I've navigated the other parts of the site to see if my connection was bad, but everything else seemed to work fine.
I'll be checking back soon to see if it's just an intermittent issue on my end, but until then, I just thought it would be worth mentioning!
I have furigana showing up in weird places. In both examples pictured below, you can clearly see another place for the same word where the furigana (appropriately) does not appear.
In the structure:

---
In the hint under a sentence:

In Profile/Stats tab/November and December are truncated on the right.
Tiny bug: when you go from one section of a grammar page to another (e.g. examples to readings), sometimes the page jumps back to the top (desired behavior, for me), and sometimes it doesn't, though I haven't figured out why the behavior is inconsistent.
I'm sometimes getting a long database dump instead of a Review page when using mobile. I thought it may have been when I switched tabs part way through a Review session, but it just did it again immediately upon clicking Review. I'm using Firefox.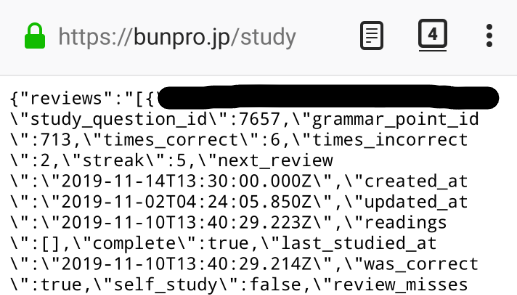 Small annoyance in the kana input field: when a character is converted, the cursor jumps to the end. Example UX issue caused by this:
I got a question that should be answered with それでも.
I entered でも and was prompted to add something.
I pressed <Home> <S> <O> <R> <E>, expecting it to result in それでも. However, after the first three keystrokes, my cursor was at the end, i.e. そでも| instead of そ|でも. After the other two keystrokes, I ended up with そでもれ, which is obviously not what I intended to write.
This is on Windows, Chrome 78. Not a huge issue, but since I often end up writing an approximation first then fixing it up before submitting, it pops up pretty frequently.
@seanblue Adding furigana in the places that you described was actually supposed to be a feature. We are experimenting with furigana and how/when it appears in certain areas. Thank you for your feedback. Cheers!
@Kokusaibu Thank you for your report. We are looking into what might be the cause of this issue. Are you still experiencing it on your end? Cheers.
@Cenon33650 and @max99x We have a fix for these issues in place that we will be pushing soon. Thank you for your reports and for your patience. Cheers!
Shouldn't it still be hidden by default since my setting is to show no furigana?
Yes, it happened just then. I started a review, got distracted and put my phone down. Came back, opened the browser where I still had the tab open and got greeted by the dump.
Stats page won't load for me. Just getting a 500 error.
The site is really slow in Safari and in Firefox.
It even crashed my Firefox. That has never happened to me with any other site


I'm also getting some crazy display bugs on Firefox 70 on macOS 10.14.6
Oh and all of this only happens after I start new lessons.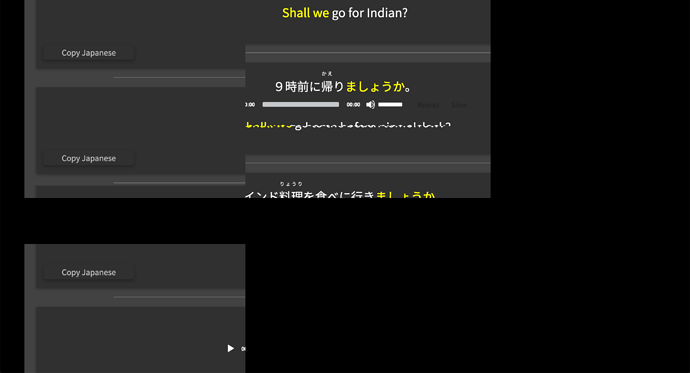 @seanblue and @Beghaus The stats page should be back up and running! We apologize for the inconvenience. Cheers!
@Beghaus We are looking into what might be the cause, but the blank page error might have to do with your large review count. Does a refresh fix the issue? Thank you for your patience.
@febLey We are unable to reproduce these issues on Firefox or Safari. Does refreshing the page fix the issue? Are you running any scripts by any chance? Thank you for your patience.