denotes sentence topic
Structure

Sentence topic + は
Pronounced 'わ/wa'
[topic marker・particle]
Stupid は
Why are you pronounced "わ"!?
(venting post from girl who just spelled it as "わ" instead of "は") Someday I will get this one right every time instead of misspelling!
Hey

You should read this amazing explanation:
Oh, thanks! I always love knowing the reason/history behind things.
Tell me if I'm wrong, but I've come to understand は as just being there to "flag" the topic of a sentence, while が, even though is not always seen, is always implied to be there.
For example, the sentence "私はアメリカ人です", while often used to mean "I am american", could very well mean something else, such as "As for me, I am american" (implying that other people in the room might be from somewhere else, but I am from the US). In other words, the full sentence would actually be "私は、私がアメリカ人です", but we don't use the 私が since it's obvious what the subject is.
I think the sentence that made me understand that is this one: "私はえびすだ", which, well, in a restaurant setting, would simply mean "As for me, the shrimp" (implying that the full sentence would be "As for me, I'll have the shrimp or I'll take the shrimp").
Then again, I might be completely wrong, but I would love to know what you think? Did I grasp the differences between は and が?
The whole は and が thing is pretty murky, but a simple way to understand the basics of it is:
私はアメリカ人です (I am American) is a response to the question "Where are you from?"
私がアメリカ人です (The one who is American is me) is a response to the question "Who here is American?"
So you're changing the focus of the sentence.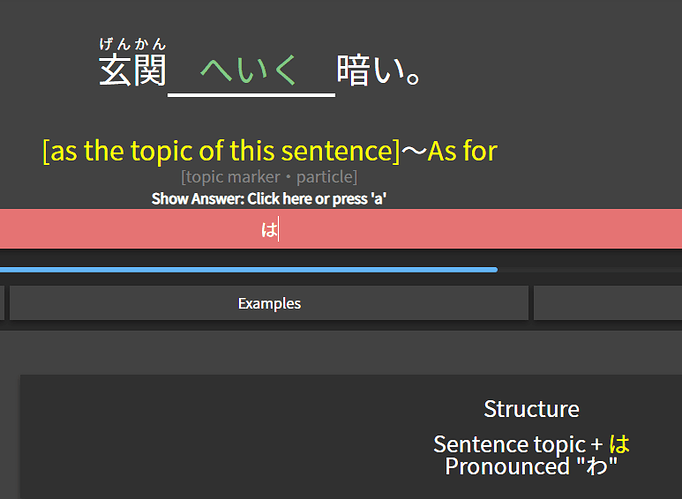 Whats going on here? The answer "ha" is not accepted, instead bunpro proposes the solution "heiku". But when pressing the "play" button it reads "ha".
@Laugerizor
Hey and welcome on the community forums!

The correct answer is は, as you wrote.
へいく appearing as an answer is an error, checked this sentence and it should be working now as intended.
Sorry for the inconvienience and thanks for informing us abot the issue,
Cheers!
Hi, I've just come across the description: [Unlike が, は cannot be used to describe things that you are seeing/experiencing in the moment (right now)]
Can anyone shed more light on this at all?