Hey All!
Continuing on our recent trend of providing you all with often-requested features, we are very happy to announce the beta release of our Japanese language setting for Bunpro.
---
Outside of reading example sentences, doing your reviews or accessing Bunpro's reading passages, 100% of your time on Bunpro is spent in English.
But that longer needs to be the case! You can now set Bunpro to Japanese!

From stats and settings, to your dashboard, profile and general site navigation, you are now able to subject yourself to the joy (and frustration) that comes from using something entirely in Japanese.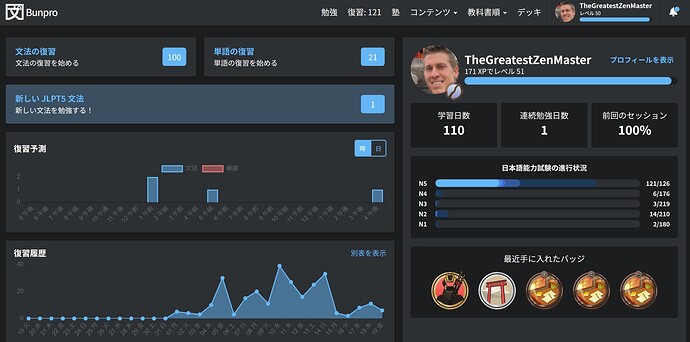 ---
How to access
In your account settings: https://bunpro.jp/settings/account, there is a language setting option (make sure you have opted into the open beta). Simply switch it to Japanese!

Why switch?
A really great way to increase your exposure to Japanese you don't normally see on a day to day basis is to switch the operating language of the devices you use.
This might be a little intense even for the most hardcore users but just switching over Bunpro to start is a great way to make a small first step toward full immersion.
When you first make the dive into immersion, you'll be hit with a large array of new words, slang and expressions that may seem a bit daunting. However, since you will see, click and use these new items on a daily basis going forward, the end result will be your brain naturally remembering the meaning without much effort on your part!
Caveats
Writeups, translations, and nuances are all still in English. In the future, we hope to provide the option to have these (where possible) available in Japanese.
There aren't any フリガナ for kanji. Unfortunately that isn't feasible at this stage but we might look into it more in the future.
Not every possible thing is translated yet. There a few libraries we are still manipulating to provide translations. One example is the graphs on the stats page showing the months in English still.
All translations were done by @Fuga and were done in a way to balance naturalness but still match the general meaning of the English version so that you can compare where needed to get a better understanding of the Japanese. If you notice any translations that you feel could use some TLC, please don't hesitate to let us know!
We decided not to go with the classic late 90s webpage theme that 95% of Japanese websites still have. Sorry for any potential disappointment but we felt that while it would provide unparalleled levels of authenticity, it wasn't worth the eventual madness it would drive everyone to.
—
As always, thank you for choosing to support Bunpro. We look forward to any suggestions, comments, or feedback you might have about this update.