Hi everyone!
Today we would like to take the chance to announce a big change to studying vocab on Bunpro, one we had been planning since its inception, but had kept (partially) under wraps. This feature is… Hints!

---

Well, Not Just Any Hints

Our overarching philosophy is to help learners build confidence in their ability and understanding of Japanese, and get to the point where they can start to make the transition to consuming Japanese content and also begin the transition to monolingual studying (doing all of their study in Japanese).
Being a place that a lot of students are able to practice their understanding of Japanese sentences as a whole, Bunpro is a tool that allows people to get close to the monolingual transition, but doesn't offer much support beyond that point. Until now…
The new hint system for vocab is designed to ease users into the monolingual transition in a way that helps students but does not hinder those that aren't quite ready for it yet.
---

The Traditional Learning Approach to The Monolingual Transition

In many circumstances, one of the first things that is recommended to students when learning new words beyond the beginner level is to look up the meaning of that word in the target language. This serves a few purposes. Some of those purposes are:
It gives the learner a sense of how someone that uses that language actually understands that word.
It gives the learner a chance to learn some new words that may be associated with the word that they are learning in the description.
It reduces the time spent swapping between their native language and the target language.
All of these things are steps that facilitate further natural understanding within the target language, and more than anything, facilitate the ability to describe!
---

The Ability to Describe?

The ability to describe is one of the things that we believe is what holds people back from using the vocabulary that they know. What we mean by this is that often when in a real conversation, it is not until someone needs to describe the meaning of a word that they realize that they either don't fully understand it, or don't know the vocabulary that would be best suited to that purpose. For example, there is a difference between knowing the word '準備' (Preparation), and being able to actually describe what 'Preparation' means in Japanese.
This is where the hint approach to learning vocab will come in.
---

The Hint Approach to Learning Vocab

Basically, what we have done is created a sort of 'easy' monolingual type dictionary for our vocab entries (starting with N5) that give a basic description of the target word. This description is available both in Japanese and in English, but will always be represented in Japanese first in the hint cycle to encourage use of the system.
Here is a bit of a preview of what it looks like.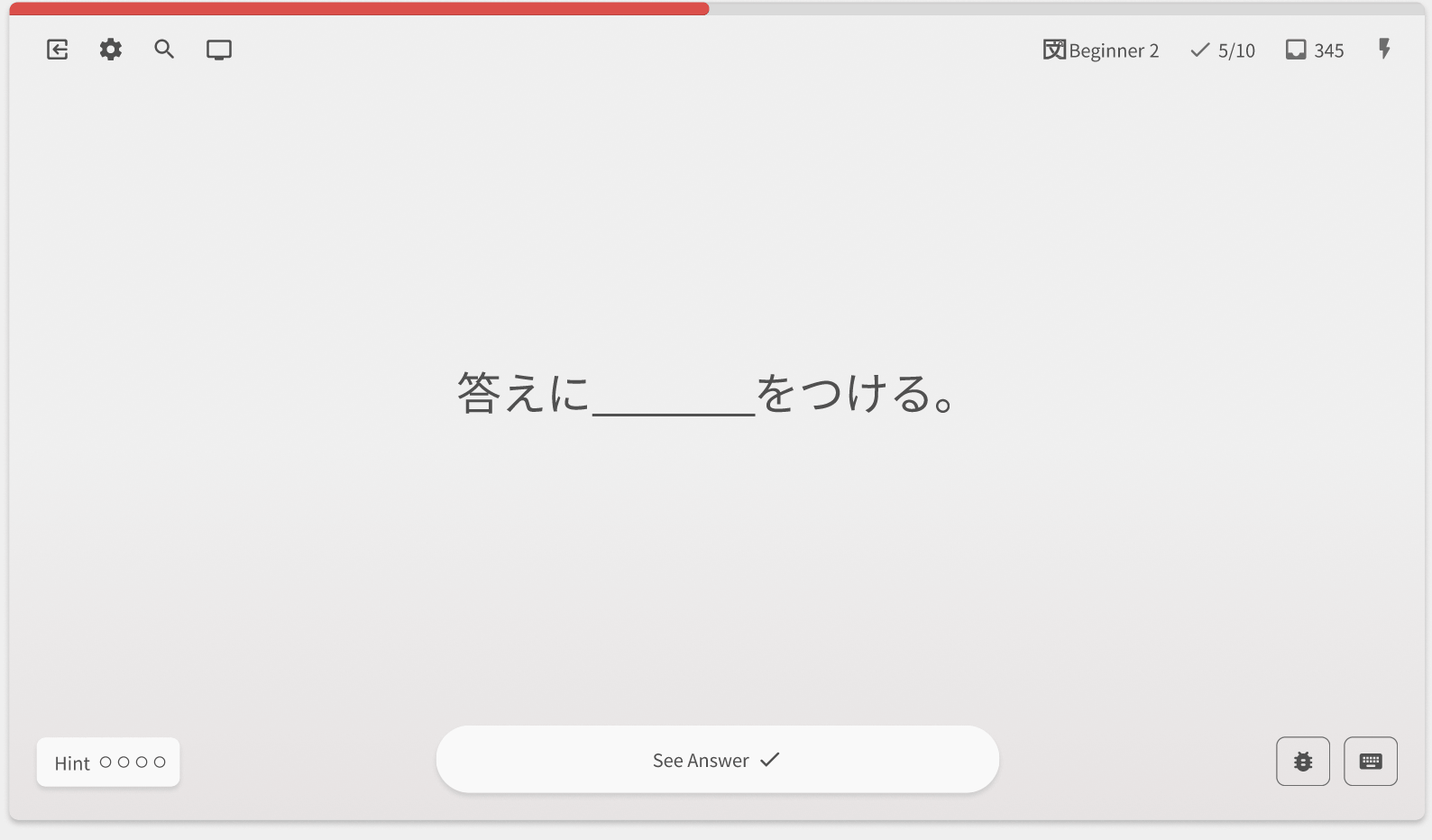 First comes the Japanese hint/definition.
Next is the translation of that hint if anything seems a bit confusing, or is beyond someone's current level.
Next comes the translation of the target word itself in English.
Last is the translation of the whole sentence.
This order has been specifically organized from most to least useful in terms of being a good indicator of how well a student knows a specific word.
This style of cloze (fill-in-the-blank) vocab learning should allow for each and every single vocab review to turn into a chance to read a sentence in Japanese to further understand/reinforce the meaning of the word that is being learned.
---
No more

possible answers
An additional benefit of this system is that it allows you to actually fill in the sentence with the answer, without needing to use the English translation. One of the key issues with a sentence like
___に行ってきます!
is that it is impossible to know what we expect you to answer with. However, by providing the following hints:
木や、草などで溢れている公共の場。スポーツ用のフィールドや、ピクニックができるスペースがあることが多い。
A public place that is filled with trees, plants, and often has sporting fields or picnic areas.
It becomes possible to answer the question while also giving you an opportunity for more practice. This particular word happens to be 公園, (Park).
---

How This System Will Evolve

Basically, this system can be thought of as somewhere between a learner's dictionary and a crossword puzzle style hint. We want students to think about the answer, but we also want the desired word to be as clear as possible.
Beyond expanding it to N4+ vocab and beyond, we will be adding this type of Japanese hint to all of our current grammar on the website, so that those who wish to study 100% in Japanese are able to do just that.
Each and every one of these hints have been written and translated by a mix of both English and Japanese native speakers in a way that will get as close to the meaning as we can without writing a whole paragraph. Additionally, care has been taken to make frequent use of N5/N4 grammar points as part of these simple explanations, so that reading and memorizing them will double as additional grammar practice/exposure.
---
A Final Touch
Lastly, we have added one more additional feature to vocab cloze reviews. This is the inclusion of the word type in the tense field, as can be seen with the [Noun] here.
This is supposed to be a quality of life change more than anything, as the main purpose of remembering a vocab word is remembering the word itself, rather than going through every possible answer in your head. We feel that this will be particularly helpful for things like phrases and collocations, where it may not be obvious at first glance that the answer could be more than one word, or a combination of a word and a particle. It will also highlight whether something is a な-Adjective or い-Adjective, or whether it is a う-Verb or a る-Verb.
---

Thanks for Everything!

With the addition of the hints and tense information, we feel that vocab study on Bunpro is slowly but surely taking on the form that we envisioned when this feature was first introduced. That is to say, a place where you can learn new vocab while simultaneously challenging yourself in your reading and grammar comprehension, leading to one skill sharpening the other.
Please feel free to leave any and all feedback about this new system so that we can continue to improve it, and we would like to thank you all as always for helping us continue to develop a product that seeks to push the boundaries of what a single tool can do.